The world is changing.
A disastrous, city-destroying fire has led to a crime wave in the UK and the authorities are powerless to stop it. Such a climate of fear has led to the appearance of regular people trying to make a difference by taking up arms and fighting back against the criminals running rampant in their cities.
Behind this backdrop of growing vigilantism lies a powerful corporation called Genesis Incorporated who have their own plans for the world, and see the current state of affairs as a perfect opportunity.
What can the world expect from this new era?
Prepare for the Infinite Genesis Universe...

Powered by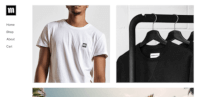 Create your own unique website with customizable templates.